Get two jars of olives for 50 cents each at Walgreens this week!
Olives are on sale this week at Walgreens for 99 cents with this in-ad coupon. (to the right)
Then print this Qples coupon for $1 off 2. You can use both a Walgreens and a manufacturer coupon together.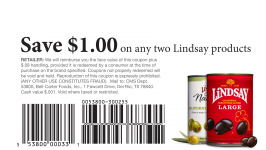 Your final price for 2 jars of olives for is just $1 (so that's 50 cents a jar)! These may come in handy at Thanksgiving, for food drives, or for your pantry.
This post may contain affiliate links. When you use them, you help support our site at no cost to you. See our disclosure policy for more info. Thanks!