My 8 year old had a fever for a few days and it kept getting higher. The walk-in clinic at Walgreens told us on Friday that it was likely a fever virus and to keep an eye on it. When he woke up Sunday morning with a 104.5 I decided that I wasn't comfortable waiting and wanted a second opinion, and off we went to the minor emergency clinic. After every test known to man was run on him we finally got the diagnosis that I had suggested upon check-in, Pneumonia.
During the battery of tests he had to have a throat culture. He's always hated getting his throat swabbed, but this time we figured out a way to go about it without the huge fight. If the nurse agrees to not use the tongue depressor and to swab for less than 5 seconds then he said it's not so bad. That's a small hint for anyone whose child starts shaking with fear when the words "throat culture" are mentioned. Up until this point it never mattered how fast they could do it, he would gag . Thankfully this new plan worked great twice this week, so now throat cultures are not his least favorite thing. You know what the big drama is now – a shot.
Of course, he had to get a shot this time. Our pediatrician has a numbing spray, but this place didn't so he started freaking out, "I have to go to the bathroom right now." I insisted he wait until after the shot to go potty, but he didn't like that idea.  After the shot I asked him if he still needed to go to the bathroom and he said "No, I planned to go in, lock the door, and never come back out." I'm glad he's honest because now I know just how sneaky he can be! A few minutes later we were released with a sheet detailing our instructions going forward. Note the hi-lighted line below:
I was reading this aloud to my 8 year old when I came across that line. I asked him if I was remembering it right and he confirmed that the alligator eats the larger number. I said, yes – we used to say pac-man, but it's the same thing.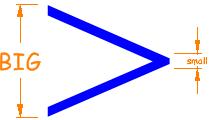 "The way I read this is we're supposed to go to the hospital if your fever is less than 103. Do you read it that way?" He looked at me and we just laughed about it. It was the first time he had laughed since the shot and it was awesome.
After getting home and settled I uploaded this to facebook so my friends could have a laugh too. My friend Christy noted that the line above it says something about "our child is improving" as if the clinic and I share the child. While I was there about 3 hours I'm pretty sure that they have no claim to him (aside from the $500+ bill that I'm sure will be headed my way soon). I went to online and educated some other friends who were thinking maybe that the clinic was right. Nope. Enjoy reading the recap at mathisfun.com and for the record the pac-man does eats the larger number.
The boy had a re-check today and he's improving, so that's good news. Let's hope this is our last case of pneumonia for a while. For the rest of this week I'll be busy checking his breathing and fever while hoping Chee doesn't get it too. If anything I learned how to avoid tears during a throat culture, and that's a lesson that I hope to never forget!
This post may contain affiliate links. When you use them, you help support our site at no cost to you. See our disclosure policy for more info. Thanks!